Business Hours
Emergency Services Available 24/7
| | |
| --- | --- |
| Day | Hours |
| Monday | 6:00 AM to 8:00 PM |
| Tuesday | 6:00 AM to 8:00 PM |
| Wednesday | 6:00 AM to 8:00 PM |
| Thursday | 6:00 AM to 8:00 PM |
| Friday | 6:00 AM to 5:00 PM |
| Saturday | By Appointment |
| Sunday | By Appointment |
We accept the following payment methods:
Laptop Battery Charger Adapters

All chargers come with a 1 year Warranty, instant replacement.  Our chargers are over rated to meet or exceed your original computer charger requirements.
Guaranteed to work or we will refund your money back.
Contact us with your computer brand name, model or part number of the computer or charger and we will match the approved charger for your computer.  We stock all brands and current models in our Fresno warehouse.
Extended Warranty Plans available upon request.
Laptop computers normally use about 30 Watts of power. When something in the computer goes wrong or shorts out, the computer will draw a higher current from the charger adapter.  This is why chargers get hot.  It is normal for a charger to get warm, but not hot!  The charger is a passive device.  It only provides power when the computer asks for it.  The protect circuit (fuse) in the charger will burn if the current is too high, disrupting power from the charger to the computer.  The charger adapter will not damage the computer, but computers will damage a charger.  If your charger gets too hot to touch, unplug it immediately from the computer.  Check the connector on the laptop to see if it lose.  Do not buy another charger, as you will may risk damaging another charger until you repair the problem in your computer.   Do not use the incorrect voltage, as this will cause damage to your computer!
Here are the brands we carry:
Acer
Apple
Asus
Averatec
Compaq
Dell
Fujitsu
Gateway
Hewlett Packard (HP)
IBM
Lenovo
MSI
NEC
Panasonic
Samsung
Sony
Toshiba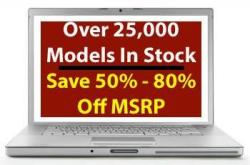 Why Choose Us?
Same Day Service
24 Hour Emergency Service
Insured in California
50% less than the Phone Company
All Work is Guaranteed
Serving Central California since 1982